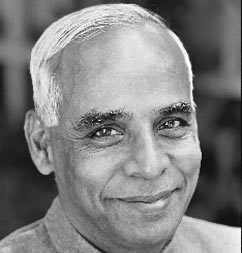 "We all need joy, and we can all receive joy in only one way, by adding to the joy of others."
– Eknath Easwaran
The Timeless Wisdom of Eknath Easwaran
You Are a Force for Peace "Keep reminding yourself that goodness is the strongest force in the world." . . . more
Discourse on Good Will: Easwaran Reads the Sutta Nipata Reading the news headlines can leave us feeling sad, angry, or helpless. . . . more
Easwaran on Thomas a Kempis' The Imitation of Christ: Talk 42 This is the 42nd in a long series of talks Eknath Easwaran gave on The Imitation of Christ by Thomas a Kempis. . . . more
The Whole World Is Your Own These words are revered as the last message of Sri Sarada Devi (1853-1920), "Holy Mother," wife of Sri Ramakrishna and helpmate in his work: I tell you one thing – If you want peace of mind, do not find fault with others. . . . more
YA Blog Post: A Light in the Darkness "Around the world, people are living with a deep anxiety about the future. . . . more
Thought for the Day
November 29
When thoughts arise, then do all things arise. When thoughts vanish, then do all things vanish.
– Huang Po
When meditation deepens, and the thinking process slows down, we will find that we don't have to think all the time. It sounds simple, even scary, but it is a mighty achievement that yields unimaginable peace. Thoughts are no longer compulsive.
Just as we turn the key in the ignition of our car when we want to go somewhere, we should be able to find the ignition switch in our own mind. When we want to think constructively we switch the mind on and drive all the way to Los Angeles without any detours or breakdowns. Anger is a breakdown. Resentment is a protracted detour that often makes us forget our original travel plan entirely and then leaves us out of gas in the middle of nowhere. But when we know where to find the ignition switch, we can start the mind out in Seattle on Interstate 5 and drive straight through to Los Angeles. We have a wonderful trip, and when we arrive and our project is completed, we switch the mind off and let it rest. There may be a certain pleasure in letting the mind wander, but for how long? What the spiritual teacher asks us is simple: Don't you want to decide your destination? And don't you want to get there with your body still healthy and your mind at peace?
The BMCM is re-designing this website and we'd love your input. Please fill out this 5-minute survey. Thank you!
Our hearts are full of sadness following the recent tragedies in Paris, France, and in Beirut, Lebanon. We want to share with you Easwaran's response to such acts of violence.
"I keep in close touch with what happens in the world. And there are times when I feel deeply grieved by the suffering I read about, and wonder why life has to be this way. But I never despair. At those times I go deep, deep into meditation until I reach the very source of love and wisdom that exists in each of us.

"So what I would tell all of you is this: meditate every day, throw yourself into some form of selfless work, and use your sense of suffering to relieve the suffering of others. It is a wonderful gift to be able to give."

– Eknath Easwaran, Spring 2015 Journal