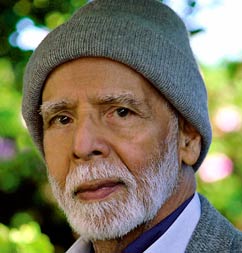 "By virtue of being human, each of us has the capacity to choose, to change, to grow."
– Eknath Easwaran
The Timeless Wisdom of Eknath Easwaran
Easwaran on Thomas a Kempis' The Imitation of Christ: Talk 39 This is the 39th in a long series of talks Eknath Easwaran gave on The Imitation of Christ by Thomas a Kempis. . . . more
YA Blog Post: A Passage for October "For spiritual seekers of all persuasions, Gandhi showed us that the spiritual life need not mean retiring to a monastery or cave. . . . more
Your feedback on our website, please! We're re-designing our website in the BMCM (www.e . . . more
Anniversary Offer on With My Love and Blessings Readers and students of Easwaran often say that they wish they had been able to meet him while he was physically with us. . . . more
The Illusion of Separateness (from Essence of the Bhagavad Gita) This excerpt is from a chapter with an intriguing title: "The Sticky Illusion of Separateness." . . . more
Thought for the Day
October 13
Be ye kind one to another, tenderhearted, forgiving one another, even as God for Christ's sake hath forgiven you.
– Ephesians
Often it is nothing more than our likes and dislikes that keep us from seeing the core of purity and selflessness that is in everyone. We don't like the way he cuts his hair, we don't like the way she drops her r's, and we can't get beyond these surface obstacles. Yet if we free ourselves from the rigid dictates of our own likes and dislikes, we will see people more clearly – even those whom we find difficult to love.
Some people are a little more irritating and self-willed than others. But instead of criticizing such people, which only makes their alienation worse, we can focus all our attention on what is best in them. This most practical skill can help those around us tremendously – while it helps us get over our likes and dislikes as well. It is like turning a flashlight onto one particular spot, concentrating on what is kind, generous, and selfless in the other person. We'll find that this kind of support draws out and strengthens these very qualities in him or her.
The BMCM is re-designing this website and we'd love your input. Please fill out this 5-minute survey. Thank you!